Utställningsresultat
ARCTICA -09
Lö: CAP, PR
Sön: CAPIB
NOS -08
Lö:CAP
Sön: CAP, NOM
Skellefteå 17/6-07
CACIB
Skellefteå 16/6 -07
CAC = Champion
Umeå 24/3 -07
Domare: Raymond A. Saetre
CAC
Umeå 25/3 -07
Domare: Yan Roca Folch
CAC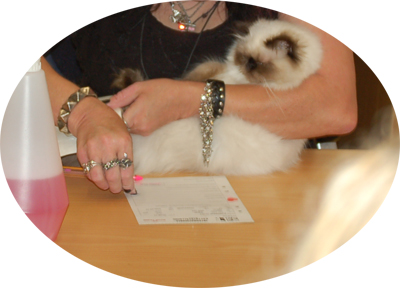 Boden 12/8 -06
Domare: Kristiina Rautio
Typ: Nice in size for the age. Nice lenght of the body. Lovely baby round belly. Medium strong boning. Nice weight
Head: Developing, stop developing, nice lenght of the nose. Ex open nosetles. Correrct bite. Could have more width on top.
Eyes: Nice shape and size when she open them- am a bit tired now, colour developing.
Ears: Could be tiny bit smaller and little bit lover set for perfection.
Coat: Not in full coat today. Excellent baby coat nicely developet points for the age. Nicely prepared for the show.
Tail: Nice shape and lenght in proportion widt body. Nicely cocted?. Colour developing
Condition: Lovely condition. Very sweet and gentle baby girl.
General impression: Promising babygirl who just need a little bit more time to develop.
EX1
Luleå 9/9 -06
Domare: Maj Britt Stein
Type: Wellbalanced kittycat. Excellent compact.
Head: Nice look (med hjärta runt), Nice profile, Short nose . Excellent stop.
Eyes: Excellent blue
Ears : Small
Coat: Nice texture+ colour. Dense. Good lenght
Tail: Excellent shape+ short.
Condition: Excellent
General impression: Excellent Lovely (med hjärta runt) young lady!
EX1